Addiction Awareness Facilitator Certification
Break the Silence…
Start With Lunch
Training Addiction & Recovery Professionals Worldwide since 1996
MAKE A DIFFERENCE IN YOUR WORKPLACE OR COMMUNITY
NET Institute Center for Addiction and Recovery Education is a 501c3 non-profit organization. Since 1996, NET Institute has trained 40,000 people to serve in the addiction field in 35+ nations. Our new Addiction Awareness Workplace Solutions Program is an affordable 'best practice' strategy of the US Center for Disease Control and Prevention.
WHAT:
Help Companies manage risk, prevent loss, and stabilize their workforce in unstable times.
WHO:
Offer Companies and Benefit Providers a non-clinical, practical, and confidential web-based program designed to signal to employees that Addiction Awareness is important to management and aligns with their commitment to Employee Health and Safety (compliments and does NOT replace clinical or medical services).
WHY / PROBLEM:
Remote, On-site and Essential Workers
are at serious risk for increased use of alcohol, marijuana, prescription medications, and other addictive behaviors such as gambling, internet misuse or overeating. Marijuana's changing legal status adds confusion.
The Covid-19 pandemic dramatically affects today's workforce. Individuals must cope with high levels of stress from reduced structure, accountability, support, and in person interaction. Employees must adjust to complex responsibilities while serving unpredictable, frustrated and sometimes hostile customers. Children in the home due to school closures, plus homeschooling duties, increase anxiety, disrupt focus, and work performance.
The stress factors listed above will continue long term for most people in the workforce. Remote workers especially may wonder if they are drinking too much or using X too much. When looking for helpful information or support, they ponder what blog is useful, or where can one turn for a safe sounding board, or helpful resources.  Stigma and misinformation fuel silence and prevent people from seeking the help they need.
HOW / SOULTION
NET Institute created the Addiction Awareness Workplace Solutions to help businesses engage and retain their employees who may be struggling with misinformation, poor coping, problem use, unhealthy behaviors, or an addiction. These challenges can also extend to an employee's family members.
Generally, people avoid using their EAP (Employee Assistance Program) or talking to HR (Human Resources) about these concerns until an incident or a crises situation forces the issue, at which point the losses increase for all parties, including costs to attract, train, and retain new talent.
Two Components for the Workplace

The Certified Facilitator in Addiction Awareness Program (CFAA) provides Certification for a company-sponsored Facilitator in Addiction Awareness.
Upon successful completion of a five-hour online course, candidates receive a credential as a CFAA. They are then authorized to deliver a one-hour "lunch and learn" presentation either on site or online to meet the company's needs and act as an informal Workplace Champion for Addiction Awareness. In the event that a company does not have a CFAA, NET Institute can provide a Certified Facilitator.

Companies may contract for licenses (codes) for their employees to gain access the online Addiction Awareness Private Program at their convenience 24/7. Benefits include:
Confidential online self-assessments related to addictive behaviors.
Engaging video segments on proven content designed for 1) understanding addiction prevention and recovery, and 2) enhancing personal understanding and application.
Private Email Access to Non-clinical Certified Professional Coaches specializing in Addiction and Recovery (CPRC). This connection is vital. People need a safe place to be heard, to process new understanding, and to make conscious choices consistent with their own values and priorities about addictive substances or risky behaviors.
IAPRC Offers Addiction Awareness Certification Programs Designed for Coaches, Counselors, Wellness & HR Professionals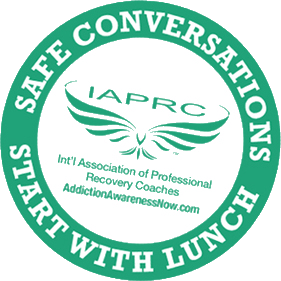 IAPRC offers Addiction Awareness Certification for Coaches, Counselors, Wellness HR Professionals
Present Engaging Lunch & Learn Presentations in your company/ community!
This is a Pre-Sale offer. Sign up now to take advantage of Pre-Launch Pricing.
Participate in our Private Beta Program Launch.
The 5-hour online Facilitator Certification Training will begin Soon.
Non-Discrimination Policy: In accordance with all applicable State and Federal laws, it is the policy and commitment of NET Training Institute and the International Association of Professional Recovery Coaches (IAPRC)  that it does not discriminate on the basis of race, age, color, sex, national origin, physical or mental disability, or religion.
IAPRC – International Association of Professional Recovery Coaches, NAADAC provider #81888, Select CCE's from ICF – International Coach Federation, Canadian Council of Professional Certification, FL Certification Board #22, Florida Board of Licensed Social Workers, Mental Health Counselors, Marriage & Family Therapists #50-27934