STEPS Business Wellness
Helping companies help their people
Wellness Training to Prevent Addiction & Increase Effectiveness
Summary
We deliver workplace wellness and personal lifestyle training to prevent addiction, increase organizational effectiveness, and return a great ROI.
Program Content
Our programs include a free introduction plus leadership, management, and employee training that changes lives and improves businesses.
Integrated Program
For maximum effectiveness, we recommend an integrated, multi-level program which can be specifically tailored to meet the needs of your company.
Individual Offerings
A wide range of seminars, consulting, and coaching services are available and can be acquired individually in a flexible, modular fashion.
The Industry
There are massive gaps in the workplace programs available for mental health, wellness, addiction, and leadership and employee development.
Differentiation
Virtually no organizations focus on the prevention of addiction or provide a holistic program that addresses the deeper issues affecting teams.
Benefits
As well as helping prevent addiction and improve the effectiveness of all employees, our programs can help save lives, families, and careers.
ROI
You can increase employee productivity, reduce turnover expenses, lower medical costs, and reduce problems from accidents and incidents.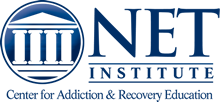 NET Training Institute
NET Training Institute helps students achieve their unique goals, including:
Personal Enrichment, Personal Recovery, Concern for Friends and Family

Training for Nonprofit Leadership and Pastoral Care
Career advancement through Professional Development and Certification
Relevant Information on Trends and Best Practices in Addiction and Recovery

Organizational Wellness & Learning Systems
Our program includes methodologies and content from Organizational Wellness & Learning Systems (OWLS), an industry leading company whose mission is: "Catalyzing healthy work cultures from the inside out with science."
Evidence-based OWLS programs were cited in the U.S. Surgeon General's report on "Facing Addiction in America" (2016) as the only ones that met their criteria for effectiveness for workplace prevention.